Plastic Surgeon in Menlo Park, CA
Jane Weston has an in-house plastic surgeon to help you achieve your goals. Call us today to speak with one of our specialists or

schedule an appointment

online.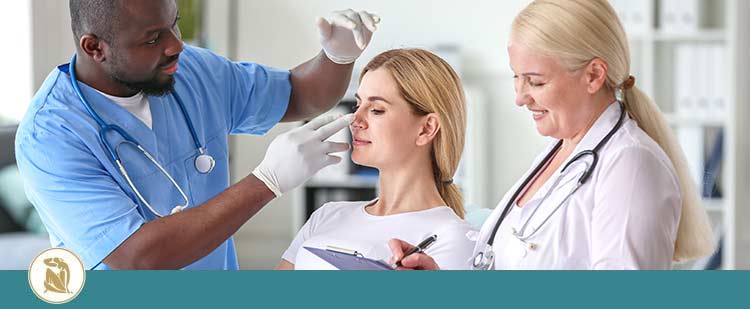 Table of Contents:
What does a plastic surgeon do?
What is the most common plastic surgery procedure?
What problems can plastic surgeons help with?
Plastic surgeons focus on doing reconstructive procedures. They work with patients who have conditions related to birth disorders, illnesses, injuries, or burns. Many plastic surgeons will also become cosmetic surgeons and work with people to help change a person's appearance or aesthetics.
After extensive training and experience, a plastic surgeon is able to repair or reconstruct most parts of the body, except the nervous system. Some of the more common procedures that they do are breast reconstruction, corrective surgeries for birth defects, and reconstruction of other areas of the body. They will repair burns, hand surgery, and scar revision. This is just a partial list of what they can do.
What does a plastic surgeon do?
Plastic surgeons will see patients on a regular basis to discuss and diagnose problems. They do necessary procedures and monitor progress afterward. They normally work in offices, clinics, or hospitals.
While much plastic surgery is reconstructive, cosmetic plastic surgery is very popular. This is done to change one's appearance. This can be redesigning the body's contour and shape. It can be reducing wrinkles or eliminating balding areas. It can also include breast augmentation or nose reconstruction. Much of this is done to improve self-esteem.
What is the most common plastic surgery procedure?
Health insurance rarely covers cosmetic plastic surgery. Even with this being the case, more and more people are choosing to do cosmetic plastic surgery. The top procedures are breast augmentation, nose reshaping, liposuction, eyelid surgery, facelift, and tummy tucks.
The American Society of Plastic Surgeons has a list of the most common cosmetic procedures that are performed. These include:
Breast enlargement or augmentation
Breast implant removal
Breast lift
Buttock lift
Chin, jaw, or cheek reshaping
Dermabrasion
Eyelid lift
Facelift
Forehead lift
Hair transplantation or replacement
Lip augmentation
Liposuction
lower body lift
Nose reshaping
Thigh lift
Tummy tuck
Upper arm lift
Botox injections
Cellulite treatment
Facial rejuvenation
Last skin resurfacing
Vaginal rejuvenation
What problems can plastic surgeons help with?
The purpose of plastic surgery is to improve a person's look, self-esteem, and self-confidence. Cosmetic surgery can be done on most parts of the body.
Cosmetic surgery can bring impressive and lasting changes to your appearance. Because of this, it is important to be aware of how these changes can affect you on the inside. It is always a good idea to think about your reasons for wanting to change your look. Many physical features can be changed with cosmetic surgery, others cannot.
Cosmetic surgery is more than just improving one's appearance. It can help people in ways that may not seem so obvious. Here are a few examples of how plastic surgeons can help people.
Breast reconstruction is not just about augmentation. Breast cancer survivors can opt for reconstruction after they have had a mastectomy. Reconstruction can help the person feel more comfortable with their appearance and figure. Breast augmentation can also be helpful for women who have breast asymmetry. Making the breasts appear more similar has a positive impact on self-esteem.
Breast reduction can have a positive health impact. This can be done to reduce back pain and neck problems. Women aren't the only people who can benefit from breast reductions, men can as well. Men who develop overly large breasts during puberty or from the use of some medications, medical conditions, or genetic disorders can find benefit from breast reductions.
People who have been injured in various ways can end up with obvious scarring that impacts how they view themselves. The scarring can also be a permanent reminder of the traumatic event that they have had to live through. Plastic surgeons can help remove the scarring and rebuild tissue that has been damaged. This helps people to feel less self-conscious and to move on from the trauma they have experienced. It can also repair injuries that are limiting their ability to function.
Plastic surgery can help treat certain medical conditions and health problems. Procedures, such as eyelid surgery or rhinoplasty can have benefits beyond improving appearance. Eyelid surgery can help people with impaired vision. Rhinoplasty can help people to breathe better. Botox can be used to treat overactive sweat glands. These are a few of the health conditions that can be improved with plastic surgery.
Many physical abnormalities and birth defects can be improved with plastic surgery. Cleft palates are corrected with plastic surgery and allow children to grow up normally. Plastic surgery can be used to treat a wide range of conditions, from extra digits, webbed fingers or toes, tumors, and other abnormalities.
Jane S. Weston, MD, FACS specializes in cosmetic surgery on the face, breast, and body. She is a certified plastic surgeon. Her goal is to bring an improved sense of confidence and well-being to all her patients. We serve patients from Menlo Park CA,  Belmont CA, Woodside CA, Redwood City CA, Palo Alto CA, and Mountain View CA.